Leather furniture can be beautiful. It can make a difference to the whole room. A leather sofa in particular can really bring a sense of ambiance to a room. Sometimes, though, you buy a leather couch and find that it's simply not as comfortable as you'd like it to be. This might be because it's an old leather sofa, the leather needs some TLC, or simply it's not been used yet.
If you find yourself stuck with a stiff leather sofa, here's what you can do about it.
Use Leather Oil To Soften Leather Couch
Leather is a material that relies heavily on its natural oils. As such, when these are stripped away due to being in direct heat or something, the leather becomes much less pliable and manageable – hence, a stiff leather sofa.
To fix this, you can try leather oil. You will need:
Mild dish soap
Water
A clean cloth
Leather oil
A clean towel
You should then:
1. Clean The Leather Sofas
In order to soften the leather you will first need to make sure the sofa is clean. That way, anything you put onto the leather surface is not going to damage or scratch the leather, it will just work to make the leather softer like you'd planned.
You can do this using leather cleaner like saddle soap or using mild dish soap or detergent and warm water. Mix the two together and gently wipe down the leather sofa to remove all debris using a soft cloth. Be sure not to get the fabric too wet as this can cause issues for the leather furniture.
Once you clean the sofa, dry the leather sofa gently with a soft, clean towel. Remove all water and ensure that the sofa is completely dry before continuing to soften the leather.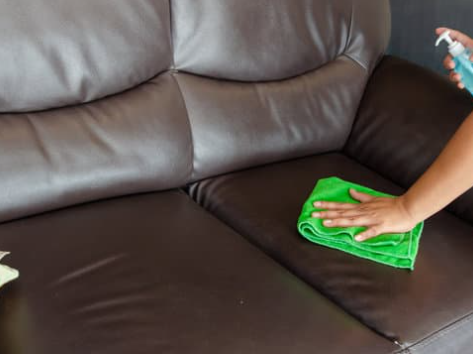 2. Apply The Leather Oil
Pour leather oil onto the leather and carefully massage it into the leather sofa. You should work the oil into the surface as best you can, even if you are trying to soften leather on something other than a sofa like a leather jacket or other leather items.
Scrunch and flex the leather as you work the oil into it, making sure that the natural oils are replenished all over the leather. This is the most effective way to use oil to soften the leather. By scrunching the material, you're giving yourself a better shot at softening leather.
3. Coat The Sofa In Leather Oil
Coat the sofa and leave it to soak in overnight. Covering the leather sofa with clingfilm often helps this process.
4. Wash Off Excess Oil
Using a cloth and your cleaning solution from step one, rinse away any excess oils.
How To Soften Leather Using Leather Conditioner
The leather conditioner needs to be used on any leather surface on a regular basis. Whether it's a leather sofa, a pair of leather boots, or any of the leather items, regardless of whether it's lambskin leather or standard leather, it needs to be conditioned to prevent cracking.
Leather conditioners can even work to soften the leather. You will need:
A high-quality leather conditioner
A clean cloth
Then you should:
1. Squeeze Out Some Leather Conditioner Onto Your Cloth
Follow the manufacturer's instructions to gauge how much, and pour an amount of leather conditioner onto a clean cloth.
2. Spread The Conditioner Out
Using your clean cloth, make circular or broad strokes on the leather sofa, applying a thin layer of conditioner. You should pay special attention to folds in the leather or bends like the edges of a sofa cushion.
Do not use too much leather conditioner, as you will find that it just sits on the surface of the leather and will not be absorbed by the leather fibres, thus not working at all as a leather softener, and wasting your leather conditioner!
3. Regularly Reapply
You should be sure to continue to apply a leather conditioner to your leather items, even after the conditioner has worked as a leather softener. This will keep the leather soft and will make it much more comfortable.
How To Use Heat As A Leather Softener
Heat can be used as a leather softener but you do need to be very careful when using it, as it can also remove the natural oils from the leather. After using heat, be sure to apply leather conditioners.
You will need:
You should: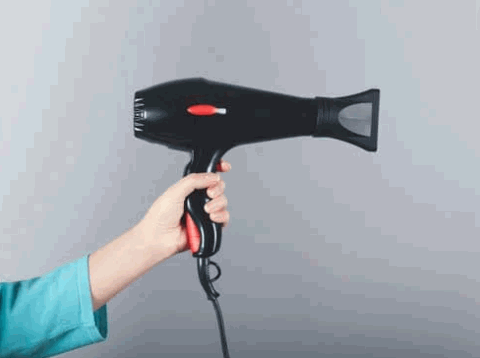 1. Turn The Hair Dryer On
You should turn the hair dryer onto medium heat, being sure not to use the hottest setting.
2. Holding It Around 15cm Away, Run It Over The Fabric
Keeping it a decent distance away from the material, run the blow dryer over the material slowly and carefully. Do not pause in one place for two longs as this can cause damage to the material.
3. Condition The Leather
Once you've used the heat, you should apply a layer of conditioner to the leather sofa to help it to recover from the high heat.
How To Use Water To Soften Leather
Generally speaking, water shouldn't be left on leather sofas for too long. Leather products do not handle water very well, even top-grain leather. But it can be used to soften the leather, and it works quite well. You will need:
A spray bottle full of water
A soft cloth
Leather conditioner
You should: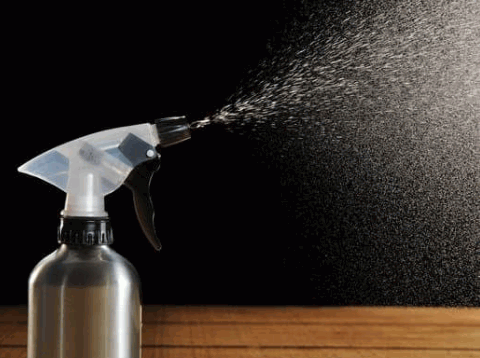 1. Spray The Entire Leather Couch
Using a spray bottle of water, spray the entire couch surface. This will allow water to seep into the leather sofa and allow it to lose its firmness. Whilst this happens, you should try to sit on the couch and allow it to mould around you a little.
2. Wipe The Excess Water Away
Using a soft cloth, wipe away any excess water and allow the sofa to dry. You should leave it in a well-ventilated place and make sure that there is no visible water sitting on the surface.
3. Apply Leather Conditioner
As with the other techniques, applying leather conditioner when softening leather products will make a world of difference, whether it's a leather jacket, a leather sofa, or anything in between.
For more learnings, you can also check out our articles on 10 simple ways to reduce your carbon footprint and the 5 types of green energy – from solar to geothermal!